Sorry I seemingly dropped off the face of the planet lately. We are finally back in Virginia. We've actually been here since Saturday but it's been go go go since then. Samantha and I got up at 6:30 Saturday morning to be out the door by 7:00. We got to the airport by 8:00 and my flight left at 9:15. Thankfully there were 80ish empty seats so I got to bring Samantha's carseat on the plane with me. The plane was pretty bumpy so I was about ready to have a panic attack, but thankfully we made it. We landed around 11:45 and I already had my bags and was out the door before Chris got there!! They were super speedy and efficient that day, I guess. We got home and Chris dropped me off so I could hop in the shower and while I was showering, he went to McDonald's to get me some lunch. I ate super fast and pumped at the same time and then headed to Tim and Nicole's to babysit. I got there around 2:15 and babysat until a little after 10pm. Ben was on fire, lol. Tim and Nicole told me he's becoming a little terror and I half believed them, but WOW, he really is a little terror. And he blames Luke for everything. I had fun though.
Yesterday I was planning on going to church at 8am but when my alarm went off at 6:30 I just couldn't bring myself to get up. I was wiped and Samantha was still sleeping so with being gone for 10 days and her schedule all out of whack, I decided we both should just sleep so we did. We got up around 8:15 and just hung out. At 11:15 we left to take Chloe to the vet. Oh yeah, Chloe is back. If you don't remember, Chloe was a little kitten we fostered last summer. She got adopted by one of Chris's coworkers but unfortunately, he recently found out he has cancer and can't keep her. So she's back with us. I took her to the vet and she got all caught up on vaccines and then I took her to the pet fair. She was pretty nervous and hissy but what do you expect? She generated a little interest but no apps on her yet. Hopefully she won't take long to get adopted out. She's only a little over a year old so I'm hoping she's not super hard to adopt. After the pet fair we raced home to drop off Chloe and then we went to our playgroup Christmas party. It was really nice, but we didn't end up staying the whole time since we were all really tired.
This morning we had a Little Hands music class through playgroup. It was fun, but I don't think something I'm interested in signing up for. It didn't seem very structured and I don't know, I just didn't
love
it. Plus it's $225. That is A LOT of money. So um, sorry Samantha, no music classes for you.
Then tonight, the mail came and we got a package from our friends Lindsay and Ethan!!!
Samantha was super excited for her box.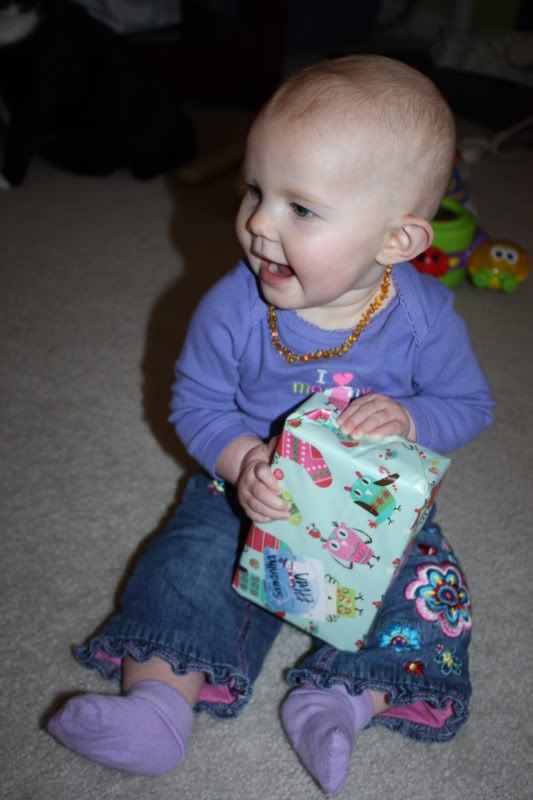 Trying to open it.
Cummon Samantha.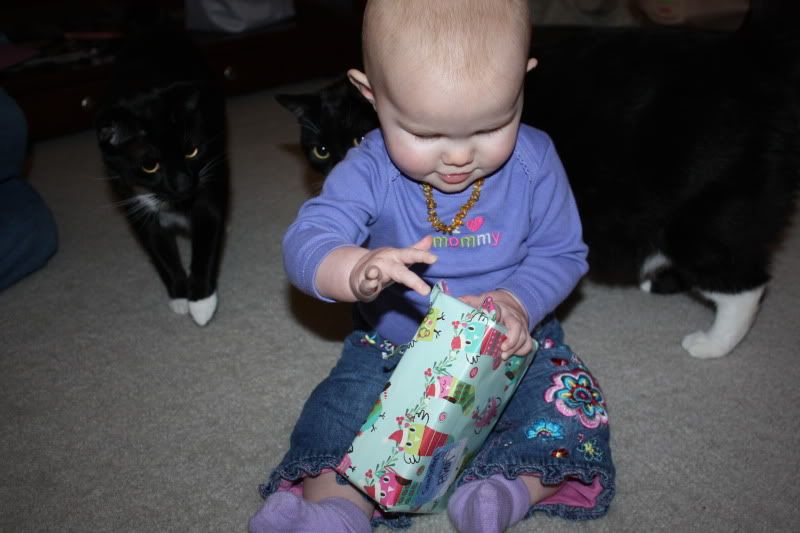 You can do it!
It's a box!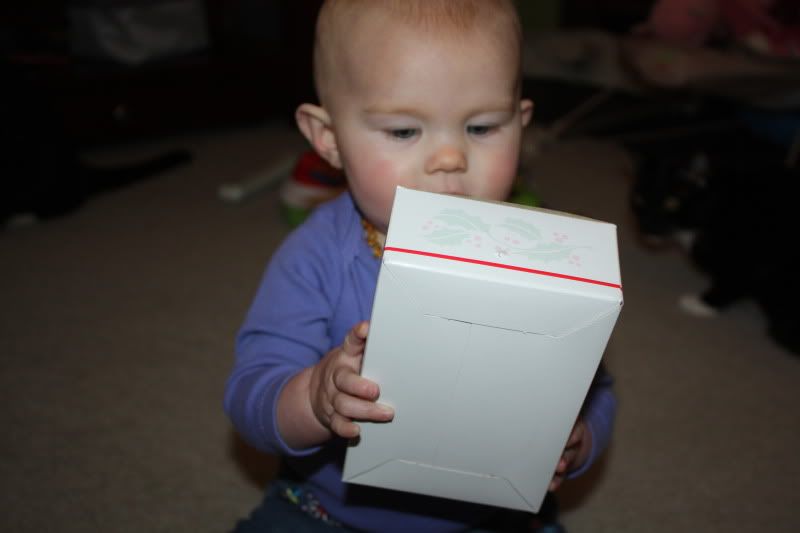 An ornament!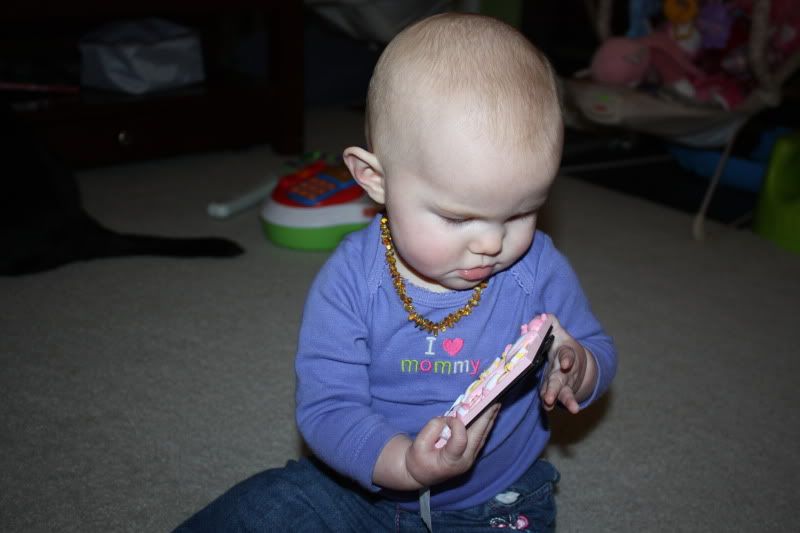 Baby's First Christmas!! SOOOO cute.
And a LUSH gift for me! Looooooooooove!
Thank you SO much Lindsay!!! Now I need to pick the perfect picture to put in her ornament. :-)